| | |
| --- | --- |
| | |
---
How to Setup Your Magicjack Voicemail?
Posted: 10 Jun 2011 07:08 AM PDT
Congratulations on buying the most cost-effective voip home phone service that is Magicjack. We switched to Magicjack years back and have never looked back. It is in fact fabulous to pay just $20/year for a home phone line and save hundreds of dollars in phone bills.
One of the first things to do with your new Magicjack voip number is to setup your voicemail.
Here is how you can setup your Magicjack voicemail
You can call your Magicjack number or press the VMAIL button on the Magicjack software.
When you hear the automated voice, press the * key.
If this is the first time you are here, just enter the default password 1234 or enter your password.
Now, Press 0 for mailbox options. You now have 3 options.
1. Change your unavailable message
2. Change your busy message
3. Record your name
4. Record a temporary greeting
5. Change your password – change it now if you have the default 1234
Once you finish recording, press the pound/hash (#) key
You can now listen to your recording and then accept or re-record your greeting.
Now, just hang up or press * to go back to the main menu.
That's it. That's how you set up your Magicjack voicemail. One thing that irks me about this service is that there is no magic jack customer service phone number. You can only do a live chat with them.
Some more topics I am planning on writing about Magicjack are
Magicjack faxing
Magicjack sip settings
Magicjack android
Do you have your own tips and tricks regarding Magicjack? Give me a shout out on twitter @KIntheHouse or on ShanKrila facebook page.
How to Setup Your Magicjack Voicemail? - Originally published at ShanKrila.com on 2011/06/10 (RSS)
KarShan Media blogs: ShanKrila - Top iPhone Resource - Spicy Tasty - Camerani
On Twitter: @KIntheHouse - @TopiPhone - @TopiPad
-
@theCamerani
-
@KarShanMedia
Firefox Extensions: Picks of the Week 07-11-05
Posted: 07 Jun 2011 12:51 PM PDT
Originally posted 2007-11-05 07:30:03.
I have found a few great extensions in the last couple of weeks and here they are. For those new here, I d o a periodical 'Picks of the Week' post listing some great extensions that I come across. Some of the best ones, make it to my more extensive 'Top Firefox Extensions' list. Now, that I am done with my usual plug, we can move to the extensions.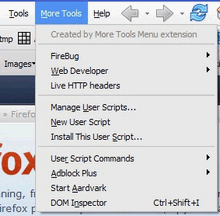 More Tools Menu: Tired of the clutter in your Tools menu because of all the extensions options? With More Tools Menu, you can eliminate this clutter into a separate menu 'More Tools' separating all the other extension options. Or you could use an extension like 'Menu Editor' to totally customize your menu options. [via Techie Buzz]
YouPlayer: YouPlayer adds a sidebar to your Firefox where you can drag and drop YouTube URLs to your sidebar to create a playlist to watch them when you have done collecting. As Ryan mentions, this is extremely useful when you are searching in YouTube and you can create a playlist without leaving the search interface. [via CyberNet News]
Grocery List Generator: This extension works with the website linked to facilitate building your grocery list. It also makes it easy to find recipes and add the necessary ingredients to your shopping list very easily.
PriceDrop: A must have for an Amazon.com shopper. With this extension, you can watch for price drops for any item in Amazon.com and get notified. [via LifeHacker]

Fancy Numbered Tabs: A great extension for the keyboard shortcut fans. It replaces the 'x' – close button in the tab with the number. Now, you can press 'ctrl'+'number on tab' to easily switch to the tab you want. [via gHacks]
Stealther: I really tried thinking hard for an innocuous reason to use this extension. But I couldn't. You can browse without leaving a trace in your browser history, form history, closed tab list, downloded files, disk cache or sending of ReferrerHeader. It doesn't clean up your previous browser information but just the session you enabled it.
I hope you enjoyed this week's collection. You can click on the tag 'Firefox' on the tag cloud in the sidebar to view my previous posts about Firefox and Firefox extensions.
Sound off your favorite in this list in the comments. Let me know if you come across a great extension as well.
Firefox Extensions: Picks of the Week 07-11-05 - Originally published at ShanKrila.com on 2011/06/07 (RSS)
KarShan Media blogs: ShanKrila - Top iPhone Resource - Spicy Tasty - Camerani
On Twitter: @KIntheHouse - @TopiPhone - @TopiPad
-
@theCamerani
-
@KarShanMedia
You are subscribed to email updates from ShanKrila
To stop receiving these emails, you may unsubscribe now.
Email delivery powered by Google
Google Inc., 20 West Kinzie, Chicago IL USA 60610
Posted by

Computer
at 4:04 AM